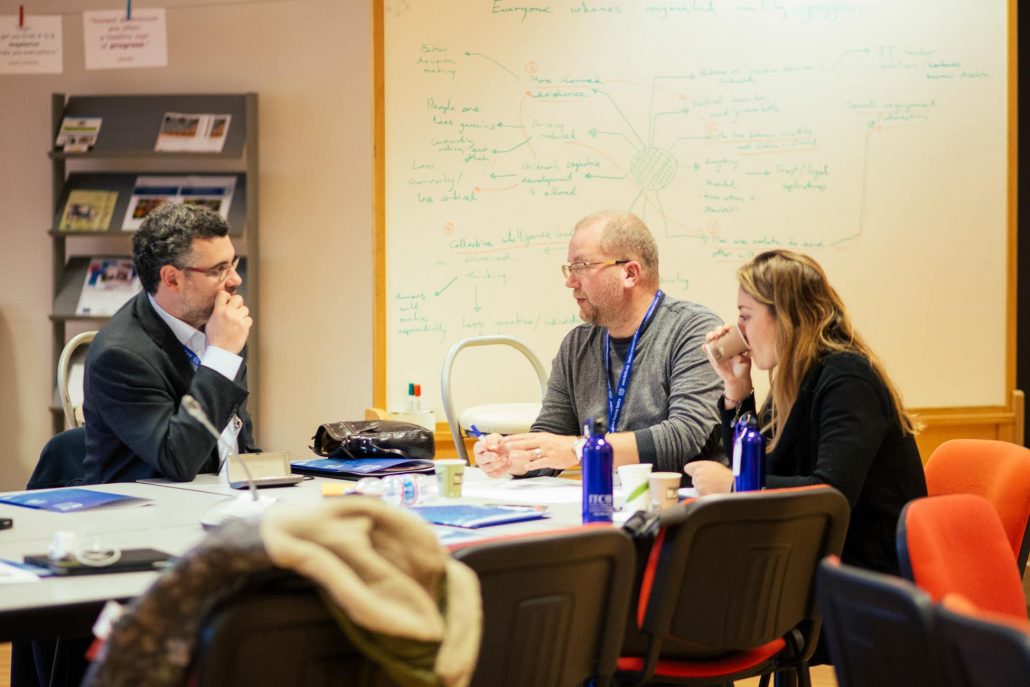 Get practical and imaginative help from colleagues immediately
Overview
Peer to peer coaching helps with discovering everyday solutions, revealing patterns, and refining prototypes. This is a simple and effective way to extend coaching support for individuals beyond formal reporting relationships.
How to use it
Refine skills in asking for help.
Learn to formulate problems and challenges clearly.
Refine consulting and listening skills.
Generate wisdom that helps you work across disciplines and functional silos.
Actively build trust through mutual support.
Create conditions for unimagined solutions to emerge.
Begin and end staff meetings.
Give participants time to formulate and sift next steps after a presentation.
At conferences and large group meetings.
How to apply it
Start:
Participants are asked, "What is your challenge? What kind of help do you need?
Setting:
Groups of three, seated, knee-to-knee is preferred.People with diverse backgrounds and perspectives are most helpful. Everyone has an equal opportunity to contribute.
Materials:
Meld with 15% Solutions: each client shares their 15% Solutions, asking for coaching.
Invite the client to face away from their consultants once the question has been shared and clarified (this deepens curiosity, listening, empathy and risk-taking for all).
Generate only questions to clarify the challenge: no advice giving (aka Q-Storming).
Link to Helping Heuristics, Heard Seen Respected (HSR), Five Whys.
Time/Steps:
1 minute: Participants reflect on a consulting question they plan to ask (when they are the client).
1-2 minutes: One participant (the 'client') shares their question with the others, who are 'consultants'.
1-2 minutes: Consultants ask the client clarifying questions.
4-5 minutes: Together, the consultants generate ideas, suggestions, coaching advice.
1-2 minutes: The client shares what was most valuable about the experience.
Switch to next person and repeat.
Tips
Invite mixing of roles within each Troika.
Try to notice the pattern of support offered. The autopilot is to lovingly provoke by telling the client "what you see that they do not see".
If the first round is weak, try again.
Questions that spark self-understanding or self-correction may be more powerful than advice about what to do.
Try to stay focused on self-reflection by asking, "What is happening here?  How are you experiencing what is happening?"