/
A case for sustainability, universality and true human needs.
Design for world peace
Back in 1945, a Yale architecture graduate called Donald McLaughin designed one of the world's most recognizable symbols: the United Nations emblem. But at that time he wasn't fully aware of the impact his design would have. When the delegates from 50 Allied nations gathered that spring in San Francisco, the conference required brochures, placards and, of course, badges. Mr. Mc Laughlin, then chief of the graphics presentation branch of the Office of Strategic Services, forerunner of the C.I.A., originally designed a 2.7 cm round lapel pin. The emblem of the continents and olive branches was also stamped in gold on the United Nations Charter, and a year and half later it was adopted, with modifications, as the official seal and emblem of the United Nations.
To this day, few symbols are so widely recognised and universally understood as the UN emblem. It's a demonstration of the power of graphic design in its ability to unite people through graphic images and rendering complex ideas into one visual symbol. Over the last several years we've seen the most influential development agencies fully embracing the role of graphic design including The World Bank, Unicef and many others.
Design must be meaningful
There is a strong cultural dimension to graphic design that is affected by traditions, language, diversity, gender, beliefs and value systems. Graphic designers within UN agencies carry the responsibility to embody these dimensions in their designs. Experience turned them into experts designing in all six official 400+ national languages, but also in integrating complex ideas such as impartiality, dignity and tolerance. They have the duty and power to represent the underrepresented and to promote inclusiveness through their ideas.
Making it look pretty is not enough. Design must be meaningful where 'meaningful' replaces rather void concepts such as 'beautiful, 'ugly', 'cool', 'cute', or 'nice'. Designers need to put end-users' needs ahead of their own taste and love of aesthetics. Or as Victor Papanek put it back in 1971': "design must become an innovative, highly creative, cross- disciplinary tool responsive to the true needs of men."
Design is inherent to all cultures and the next generation of graphic designers needs to be aware of their ability to emphasise on deeper cultural meanings. Design can impact the world and therefore designers should cultivate their capacity in strengthening mutual understanding amongst people and nations.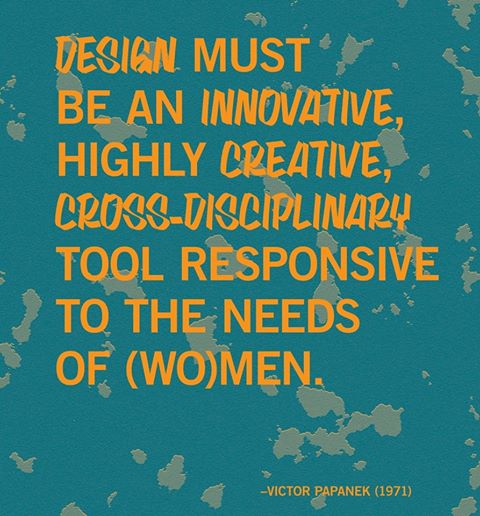 From ITCILO's Future of Learning Magazine
In-house capacity and training
The ILO Turin Centre has its own inhouse graphic design unit. Multimedia Design and Production (MDP) provides
graphic design solutions for courses, training materials, conferences and publications. For many years MDP has also designed the publications of other UN agencies including UNHCR, OHCHR and the World Bank.
This year for the first time, the Center will organize a course on how to design communication solutions for development purposes. As a discipline, Communication for Development embraces a broad range of functions and practices which centre around dialogue, participation and the sharing of knowledge and information, all with a view to creating empowerment and sustainable social change. From a human centred approach, this on-site training course will explore the possibilities of contemporary and traditional communication tools in addressing development
challenges and maximizing the impact of initiatives.
The Communication for Development (C4D) Course will be organised in Turin, from 5 to 8 June 2018. All information and applications on the course's web page.
https://blog.itcilo.org/wp-content/uploads/2018/02/28124283_10156021449034019_851214813_o.jpg
480
1247
wambeke
https://live-blogitcilo.pantheonsite.io/wp-content/uploads/2017/06/itc-ilo-blog-logo-small.png
wambeke
2018-02-15 11:44:02
2018-02-15 11:44:02
Graphic Design in Development