/

At the start of the new year we want to share with you the annual visitor's report of this blog about learning and technology. It is available here : http://itcilo.wordpress.com/2011/annual-report/ . After 3 years, almost 60.000 visits and about 100 published articles it's time to review, upgrade and innovate this knowledge sharing blog. Below you will a word cloud of key concepts that were addressed in the last  three years of writing.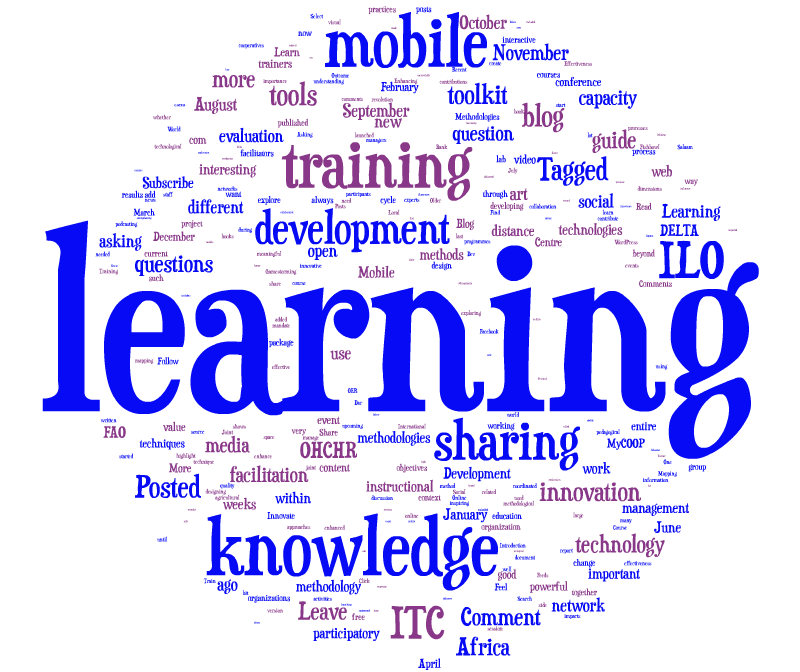 What could we change ?
Some ideas and suggestions:
– more interviews with external experts in learning, training and knowledge sharing.
– continue with live blogging at important learning events to make the information and knowledge accessible.
– asking more questions to you, the reader,  in order to capture more user-generated knowledge that will feed this blog.
– backing up our technological articles with more how-to guides and instructions.
– continue to review interesting articles and books in this specific knowledge domain.
– more reflections, lists, polls, …
What else would you suggest? Ideas welcome !
https://blog.itcilo.org/wp-content/uploads/2012/01/blogging.png
941
1721
wambeke
https://blog.itcilo.org/wp-content/uploads/2017/06/itc-ilo-blog-logo-small.png
wambeke
2012-01-02 12:53:08
2017-10-31 21:35:08
Blogging in 2012