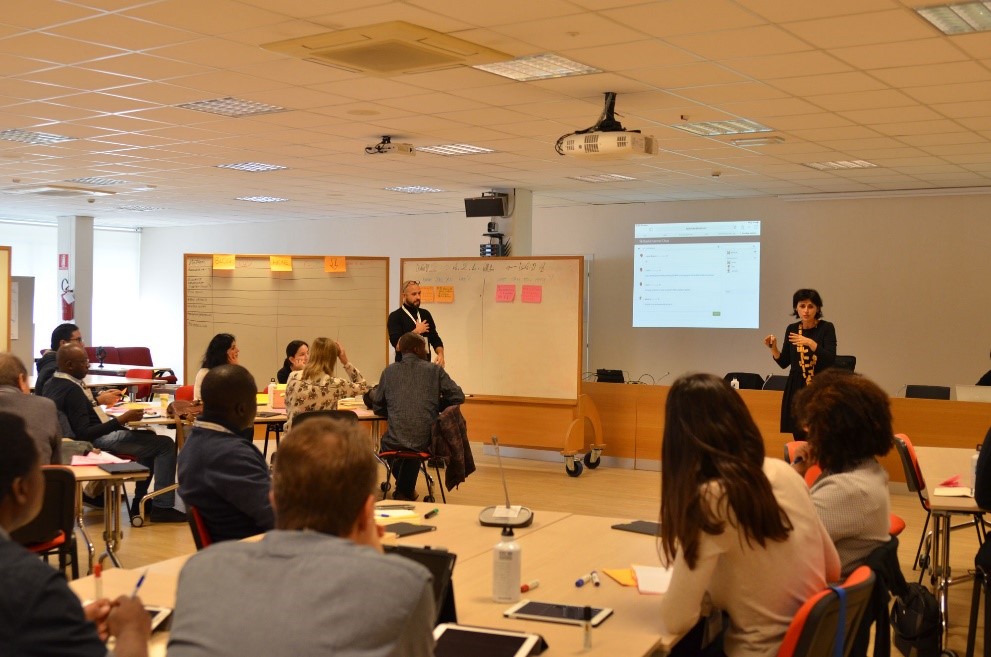 Agency in agenda-setting
Overview
Open Space allows participants to drive the development of an agenda that deals with multiple issues around a central theme, and to conduct sessions around each issue. It uses the self-organizing capacity and ingenuity of participants to reach learning objectives. It is a participatory approach to identifying relevant learning content and methods.
How to use it
Identify and address key issues for participants in one or two days.
Support informal learning, brainstorming, networking, deal making and collaborationwithin small groups who have identified common goals and acted upon them.
Address highly complex central themes that no single person or small group can understand completely.
Design action plans.
Demonstrate an innovative and empoweringapproach that participants can disseminate within home organizations.
Not appropriate when specific agenda items need to be addressed, or participants are not familiar with the theme.
How to apply it
Start:
Select a focusing statement, theme or question that clearly frames the learning objectives.
After explaining the theme and objectives, invite the participants to fill the agenda, which allocates a time and space to a limited number of sessions.
Setting:
Place chairs in a circle and choose a blank wall for the agenda. Use large sticky notes to arrange agenda proposals.
Materials:
Large wall space and large sticky notes for the agenda.
Flipcharts and posters to represent the theme, and take notes on the sessions.
Primary report format for group representatives.
Time/Steps:
Instruct participants to write down a proposal on a sticky note for a session based on a specific theme-related issue.
Participants present their proposal and place it on the agenda, including their name for reference.
Avoid duplication by encouraging participants to create one posting per issue. Sessions can be combined or run in parallel if several people identify the same focus areas.
Identify the most passionate or experienced participant on each agenda item to convene the session and take notes.
The facilitator should be present yet invisible,providing assistance and guidance only when necessary while letting the participants dictate the learning process.
Explain the 'law of two feet': if at any time a participant is neither learning nor contributing, they must use their feet to reach an alternative session.
Participants may move from group to group in the style of bumblebees, pollinating and cross-pollinating sessions.
If a person wants to attend two sessions that are scheduled simultaneously, they must find the two conveners and convince them either to combine their sessions or change the time. If this approach is unsuccessful, the participant can behave like a bumblebee.
Representatives from each session create a primary report, which the facilitator collects and uses to prepare a final report. It is helpful to provide representatives with a standard format that includes the time and title, name, list of participants, discussion points and key recommendations. Add a table of contents, review language and format the document as needed before providing it to the participants in print form or online.
1-3 days is the recommended length. An Open Space should not be squeezed into less than one day, unless the learning objective concerns a single specific theme. A big scope will need more time, a narrow scope less time.
Allocate time at the end of each session to formulate a report on the learning process.
Convene participants an hour before closing time in order to share highlights and key reflectionsin a round table discussion.
Case study
Title:
Participation in an open space
Activity:
Lifelong E-learning: Innovative Solutions
Contact:
Tom Wambeke, t.wambeke@itcilo.org (DELTA)
Description:
After the first phase of the blended course, one day of the face-to-face week was left open and described only as "Open Space on innovative and participatory e-learning". The facilitator introduced the theme and explained the process. Participants seemed unconvinced and it was about five minutes before any movement began.  The first to propose topics were hesitant, but soon everyone was eager to look at particular issues. Participants walked into the centre and presented or posted many different topics. All wanted to see their important questions addressed. In-depth discussions consumed the 1 ½ hour sessions. Several participants buzzed among groups. The conversations continued over coffee and intensified during lunch. By the end of the day, a lot of learning had occurred in a very short time.
Tips
Introduce the four principles of Open Space:
1. Whatever happens is the only thing that could have happened, because participants drive the process.
2. Participants decide which session they want to join according to their interests and needs, which means all those who attend are the right people.
3. Whenever the work starts is the right time, because creativity does not happen on a set schedule.
4. When it is over, it is over. Move on to something else, even if the subject has been dealt with quickly.
Create useful reminders for the participants by visually depicting the theme, the four principles and the law of two feet on flipcharts or posters.
Set the right conditions for the activity by ensuring familiarity among participants and an atmosphere of collaboration.
If too many subjects are identified, use a logical process of elimination to assist the participants to set the schedule. Ask participants to indicate sessions of interest, and eliminate those without likely participants. Suggest clusters of relevant subjects to reduce the agenda further.
To ensure that participants are actively listening during the round-table discussion, a "talking stick" can be passed from one person to the next. Describing the session in one sentence is a good technique for summarizing the outcomes.