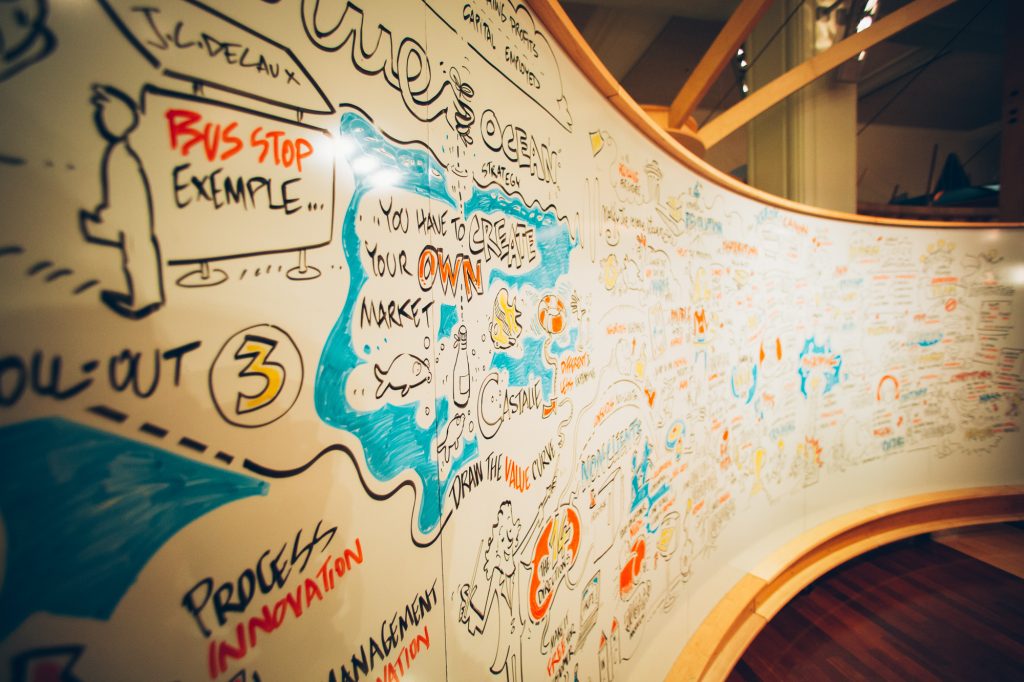 Organizing your thoughts graphically
Overview
Mindmapping is a diagram that shows words, ideas or tasks linked to a central keyword or idea. It is used to generate, visualize, structure and classify ideas, and as an aid in study, organization, problem solving, decision making and writing. It can be done manually or with software.
How to use it
Map social relationships and networks.
Collect, organize, cluster and filter ideas.
Collaborative brainstorming.
Strategic analysis and problem solving.
Debriefing.
How to apply it
Start:
Use online in Phase 1 of the Turin Blended Learning Approach (Course introduction):

Use a mindmap to design and structure your course.
Prepare a mindmap introducing yourself, post it on the platform, and ask participants to join the session  with a poster mindmap of themselves (a picture in the centre, their interests, their work experience, etc.).

Use Face-to-Face in Phase 2 (Complement course material and free up time for collaborative activities):

Start a mindmap at the start of the course and have participants complete it throughout as they gain knowledge of the topic (this can be done in small groups). Have the group vote on the best mindmaps.
Use a mindmap as a primary facilitation tool. Integrate it into the workshop as a way to do a strategic analysis and a SWOT.
Use a mindmap as a debriefing tool. Use it to capture the main concepts and issues in the activity.

Use online in Phase 3 (Support learners):

Post the best mindmaps on the platform for future reference.
Ask the participants to make a mindmap of their action plan.
Materials:
Each group needs a large sheet of paper, coloured markers and sticky notes.
Time/Steps:
Provide a brief introduction to mindmapping.
Divide the participants into small groups and give them the same topic to mindmap.
Tell them to start by brainstorming with sticky notes.
Give the groups one hour; circulate among them to encourage use of pictures, colours, etc.
Post the maps on the wall and discuss the different ways they have dealt with the topic in question.
How to adapt it
A mindmap can be used to map 'cause and effect' and 'process and outcome' relations. This helps to structure understanding by developing meaning.
A similar methodology to mindmapping is conceptmapping.
Electronic mindmaps: Download Cmaps

Collapse or expand topics to see more detail or less.
Enrich with graphics, images, spreadsheet info, links to files, websites.
Information can easily be grouped and regrouped.
Support group communication at a distance: people can collaborate on the same mindmap online.
At the end of a session, the end product is available to all the participants and owned by them.
Easy to turn the mind map into other electronic forms.
Case study
Title:
Manual mindmapping
Activity:
mindmap was used to do a strategic analysis that covered the same elements as a SWOT
Description:
The use of three different colours (for problems, observations and proposals) stimulated a thinking process at a workshop. The final result was a tree of ideas and concepts that could be used for the rest of the course.
Tips
Start in the middle of the page with an image of the topic or a single word.
Keep topic labels as short as possible.
Be visual: use colours, drawings, symbols.
For brainstorming: write down or draw all your thoughts around the central topic. Once all the ideas are there, organize them through relationships.